In cooperation with the Bratislava – Nové Mesto city district we have opened a new multipurpose park to mark the successful completion of our Urban Residence development project. The new park will be a place for families with children, dog keepers and athletes, as well as for children with disabilities who can enjoy a special playground that is also part of this free-time zone.
Covering an area of 2,000 sqm, the green park is the final step in the four-year-long construction of the Urban Residence project in Bratislava's Nové Mesto. It completes a trio of residential and commercial buildings naturally interconnected by the compound of the Filiálka railway station. The new park, built in cooperation with the Nové Mesto municipal authority, is now open both to the residents of the Urban Residence project and the general public.
"There's never enough parks in cities and I'm glad that we can make another pleasant place available to Bratislavans today," says the mayor of Bratislava – Nové Mesto Rudolf Kusý. "The new park in Nové Mesto is a zone with a great potential to bring together people who have just recently moved in together with the long-time local residents. This is how we believe the city districts should be revived," he adds.
"The park has put a symbolic end to our Urban Residence project, which we launched in 2018 and which now houses more than 400 families, as well as young people who are just beginning to create their new home. We're very happy that this area is already alive and engaging, connecting the new and existing residents," saysZoltán Müller, chairman of the board of directors of the Lucron company.
Inclusion and relax for the entire community
The new park is divided into several, naturally blending zones which create an active space for the entire local community. It's a place where you can have a break from the hustle and bustle of the city, play creative games with your children, or safely walk your dog. In addition to 41 new full-grown trees, the park is also equipped with comfortable benches and seats and boasts an innovative playground for children with disabilities. Children who use wheelchairs can play in a specially designed sandpit and have fun on customised, safe and secure swings and a merry-go-round.
Dog lovers will come to love the two new public dog runs, for small and large dogs, where they can safely let their pets off the leash, let them socialise, and train them. The park is also equipped with practical facilities for dogs and their owners, including a water fountain or dog litter bins.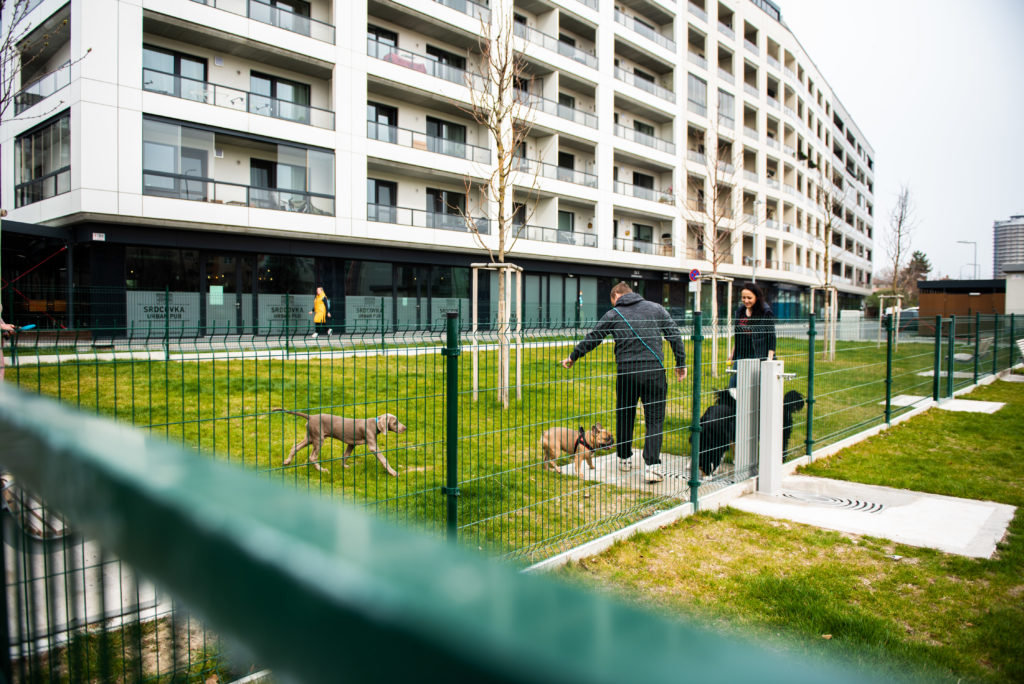 "We based our design on a smart city concept, making sure the park is environment-friendly and inclusive for all its visitors. With the park facilities, we want to create a friendly environment where families with children, dog lovers or people with disabilities, simply people of different ages and backgrounds, will get along," explains Zoltán Müller.
The opening of the green park, designed by Divo, a Brno-based landscaping studio, topped off the construction of the unique Urban Residence project that commenced in 2018. Its three blocks provide a total of 437 flats and apartments, which have become home to many young people and families who demand not only comfortable housing but also a high-quality public space.
Street retail concept full of life
Urban Residence was designed and built according to the "street retail" concept, which involves smaller retail establishments with direct access from the street. New premises for small retailers and services was one of the key demands of the residents from a wider surrounding at the time when investment plans for housing development in the Filiálka location were presented for public consultations.
Urban Residence now houses a drugstore, an artisanal grocery store, a craft butcher, a convenience store, a café, a bakery, a pharmacy, a dentist, and a general practitioner's office. Further services include a bike shop, a bank, a nail salon, or a hairdresser. "To transform Urban Residence into an engaging space with good neighbourly relations was our top priority from the very beginning. I'm glad we have kept our last promise, too, which was creating a new park where residents and people from the neighbourhood of all ages can relax and enjoy their free time," concludes Zoltán Müller.